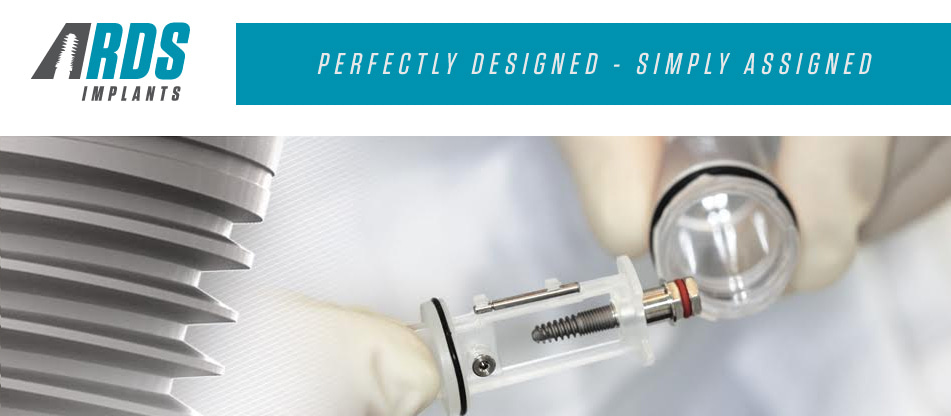 Company Profile
Who we are
Founded in 2005, ARDS is the brainchild of Dr. Uri Arny DMD, a veteran in the industry with over 20 years of implantology experience. Based on his philosophy of Minimum Drilling - Maximum Primary Stability, ARDS became a pioneer with its
unique confident drilling technique
and
SMART implants
.
ARDS offers a full range of innovative functional dental implants, super-structures and tools for implantology. With our solutions, dental clinicians can give their patients the best treatment they deserve.
Our main office is situated in Rehovot, Israel, with production facilities in Tefen industrial park, in the north of Israel. All our products are certified and comply with applicable rules and regulations.
What we do
We provide our unique SMART implants and ARDS drilling technique to the dental industry.
All our implants are made of biocompatible USA medical grade Titanium alloy. What makes our implants unique is their surface, which is roughened by sand blasting to enable better long-term osseointegration.
Approved by ISO 13485 and 9001:2008, CE and FDA cleared for marketing, all our products are subject to stringent Quality Control before being shipped.
Our
SMART implant
, a dual thread internal hex implant, helps to remove stress from the problematic cortical bone, close to the soft tissue. By transferring vertical forces to the cancellous bone and using its rich blood supply, the SMART implant enables better healing capabilities.
Benefits:
15% more surface area in comparison to conventional implants
Equal distribution of forces around the implant
Higher bone-implant contact
Increased primary stability
Better osseointegration
Suitable for immediate loading; 1 and 2 stage procedures
Suitable for all bone types, especially low quality bones
All SMART & CIT implants are packed together with a single use leading pin
Our
ARDS Confident Drilling technique
is a unique, precise and simple bone preserving minimal drilling technique that saves up to 40% of the bone. It enables confident, accurate and easy placement of implants.
Benefits:
Shorter healing process due to reducing the amount of drilled bone

Maximum primary stability with the SMART implant

Immediate implant after extraction in almost all cases

Easier to implant in problematic areas (narrow ridges or extraction sites) due to the use of leading pins enabling precise drilling control

Cost-effective solution that is easy to master and saves time

Perfect technique for beginners in implantology
What we stand for
It is our vision to simplify the implant procedure with our simple, accurate and effective "Minimum Drilling - Maximum Primary Stability" technique, which every dental surgeon can perform. It offers an excellent solution in most of the cases that dental clinics are handling.
We fulfill our vision by offering our unique combination of a methodical, logical and user-friendly drilling technique coupled with our unique SMART implant design. Many dentists have attended ARDS Implants courses and seminars around the world to learn more and embrace our vision.
If you would like to learn more about ARDS Implants or attend a course near you, visit our website at
www.ARDSimplants.com
or contact your local distributor.